Thierry Mugler: Creatures of Haute Couture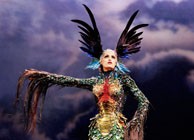 Montreal (CAN) > 02.03.2019 - 01.10.2019
The Montreal Museum of Fine Arts (MMFA) is pleased to announce the presentation, in February 2019, of the first exhibition on French creator Thierry Mugler. Conceived, produced and put on tour by the MMFA, this exhibition will reveal the multiple universes of this undeniably artistic figure – visionary couturier, director, photographer and perfumer – in a retrospective of his work, especially his ready-to-wear and haute couture creations.
This impressive exhibition, premiering in Montreal, will bring together more than 130 outfits, most of them never shown before, created between 1973 and 2001, as well as many unseen archive documents and photos by great artists and photographers.
The exhibition trace the path of an exceptional creator who revolutionized fashion with morphological and futuristic cuts, and glamorous, sculptural and elegant silhouettes; strict lines and super-heroine shoulders; and a corseted waist dressing a sublime, sensual and powerful woman in constant metamorphosis. The exhibition offers a dive into his singular imagination, to encounter by turns his perfectionism, Hollywood-style prestige, dreams, exotic creatures, eroticism, and science fiction. It will explain his audacious choices, such as using innovative materials in high fashion such as metal, fake fur, vinyl and latex.
Textquelle: Museumswebsite
Bildquelle: Museumswebsite
Veranstalter/ Ort
The Montreal Museum of Fine Arts
1380 Sherbrooke St W
Montreal, QC H3G 1J5
Kanada

weitere Infos: www.mbam.qc.ca/en/exhibitions/on-view/thierry-mugler/