Diana: Designing for a Princess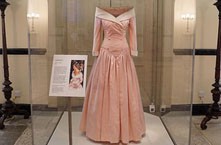 London (UK) > Dauerausstellung mit wechselnden Objekten
In this elegant new display at Diana, Princess of Wales' former home of Kensington Palace, a piece from Diana's wardrobe complements original sketches created for her during the design process. Diana's handwritten comments, added alongside her favourite designs, demonstrate the joy she found in fashion.
Currently on display
Evening Gown by Catherine Walker, 1987
The Princess wore this gown on a number of occasions, reflecting her different roles as a patron of the arts and charities, as an ambassador, and fashion icon. Catherine Walker was one of the Princess's most trusted designers. They worked together to refine Diana's image, developing what Walker called her 'royal uniform'. The fact the Princess wore this dress so many times would suggest it was one of her favourites.
Sketches by David Sassoon
David Sassoon was one of Diana, Princess of Wales' favourite designers. This collection of sketches charts the Princess's move from the romantic outfits of her marriage to the confident working wardrobe of her later life. Designs include a sketch for her going away outfit, worn to board the train for her honeymoon in 1981, and a playful tuxedo-style evening dress worn in 1989. Also among the display is an annotated sketch for a white chiffon maternity dress, which the Princess wore when pregnant with Prince William and then again with Prince Harry.
Textquelle: Museumswebsite
Bildquelle: Museumswebsite
Veranstalter/ Ort
Kensington Palace
Kensington Gardens
London W8 4PX
GB

weitere Infos: www.hrp.org.uk/kensington-palace/whats-on/diana-designing-for-a-princess/#gs.211tws