Levi Strauss: A History of American Style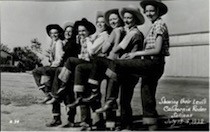 San Francisco (USA) > 13.02.2020 - 08.08.2021
In 1873, at the end of the California Gold Rush, Levi Strauss & Co., named for a Bavarian Jewish dry goods merchant in San Francisco, obtained a U.S. patent with tailor Jacob Davis on the process of putting metal rivets in men's denim work pants to increase their durability. It was the birth of the blue jean.
The Contemporary Jewish Museum is pleased to present Levi Strauss: A History of American Style, an original exhibition showcasing the life of Levi Strauss, the invention of the blue jean, and their iconic place in the history of American style.
This exhibition tells the distinctly American story of Levi Strauss—a Jewish immigrant, businessman, and philanthropist whose lifelong commitment to family and civic life were fundamental to the history of San Francisco. Continuing into the early twentieth century, the exhibition illuminates the pivotal role Levi Strauss & Co. played—through finely crafted clothing and advertising—in capturing the expanding mythology of the American West.
Featuring over 250 items it represents the largest public display of the company's archival materials ever assembled. The show will also present a range of loans from additional lenders. Visitors will experience Levi Strauss & Co.'s enduring impact with rarely before seen objects, including a suit owned by Lauren Bacall, a never-before-exhibited jacket worn by Albert Einstein, an AMC Gremlin car with an interior upholstered completely in denim, and a custom ensemble worn by Lauryn Hill on her Miseducation tour, among many others.
Spanning three centuries, Levi Strauss & Co. has defined an American approach to self-presentation that is authentic, hard-working, and inclusive. This exhibition will present a range of garments, media, and archival materials that celebrate the man, the clothing, and the history of San Francisco where it all began.
Textquelle: Museumswebsite
Bildquelle: Museumswebsite
Veranstalter/ Ort
Contemporary Jewish Museum
736 Mission Street
San Francisco, CA 94103
USA

weitere Infos: www.thecjm.org/exhibitions/114