Monet, Renoir... Chagall. Voyages en Méditerranée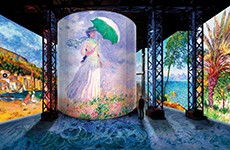 Paris (F) > 28.02.2020 - 03.01.2021
Une création Gianfranco Iannuzzi - Renato Gatto - Massimiliano Siccardi - avec la collaboration musicale de Luca Longobardi.
This exhibition presents an itinerary that spans the period between Impressionism and modernism. After the exhibition devoted to Van Gogh, the new digital exhibition will highlight the link between artistic creativity and the Mediterranean shores, as the principal centres of the modernist movement. The exhibition will immerse visitors in the masterpieces of twenty artists, including Renoir, Monet, Pissarro, Matisse, Signac, Derain, Vlaminck, Dufy, and Chagall, amongst others.
In seven sequences lasting forty minutes, visitors will be taken from one artistic movement to another: from Impressionism, with Monet and Renoir, to pointillism with Signac and Cross, and Fauvism with Camion, Derain, Vlaminck, and Marquet... and, of course, Matisse. The immersive exhibition will also retrace the fascination of Bonnard and Dufy for the Mediterranean, and eventually focus on one of the greatest colourists of modern art—Chagall. More than 500 works, which are now held in collections around the globe, will fill the Atelier des Lumières with their bright colours and highlight the variations in the works of these great artists on the Mediterranean shores, which inspired them to take their work to its finest expression.
Textquelle: Museumswebsite
Bildquelle: Museumswebsite
Veranstalter/ Ort
The Atelier des Lumières
38 rue Saint Maur
75 011 Paris
Frankreich

weitere Infos: www.atelier-lumieres.com/fr/monet-renoir-chagall-voyages-en-mediterranee