Shoephoria!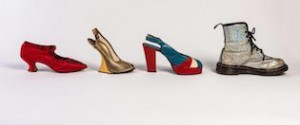 Bath (GB) > ab 29.03.2021 (Dauerausstellung)
Our stunning new display feature showcasing some of the highlights and curiosities of the Museum's world-class collection of more than 3,000 pairs of shoes will go on show from Monday 29 March 2021.
Demonstrating the creativity of shoemakers throughout history, more than 100 pairs of shoes and boots will be displayed, over half of which have never been on show before.
From the oldest shoes in the collection to shoes belonging to Her Majesty Queen Mary, from trainers and sneakers to designer shoes by Vivienne Westwood, Versace and Jimmy Choo, the Museum's shoes on display will document the evolution of shoe style over the last 300 years.
Shoes will be interspersed with the fashions on display as part of the A History of Fashion in 100 Objects exhibition, celebrating fashion from the 1600s to the present day.
Textquelle: Museumswebsite
Bildquelle: Museumswebsite
Veranstalter/ Ort
Fashion Museum Bath
Assembly Rooms, Bennett Street,
Bath BA1 2QH
England

weitere Infos: www.fashionmuseum.co.uk/events/shoephoria