Dior + Balenciaga: The Kings of Couture and Their Legacies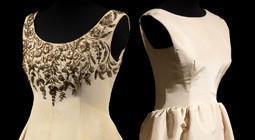 New York (USA) > 01.06.2022 - 06.11.2022
Dior + Balenciaga: The Kings of Couture and Their Legacies features fashions by the two most important couturiers of the mid-20th century, Christian Dior (1905–1957) and Cristóbal Balenciaga (1895–1972). Featuring approximately 65 garments and ensembles drawn solely from The Museum at FIT's permanent collection, it is the first exhibition to juxtapose the work of these legendary designers, side by side.
Unlike recent large-scale retrospective monographic exhibitions of the two designers, Dior + Balenciaga: The Kings of Couture and Their Legacies is an intimate, curatorial exploration and reevaluation of their work. The focus is on their innovative construction methods and the exquisite workmanship of their respective ateliers.
Although their backgrounds and methodologies were markedly different, Dior and Balenciaga concurrently produced fashions that captured the era's hunger for luxury and elegance and led the restoration of France's profitable fashion industry after the devastation of two world wars and a crippling economic depression. Together, they contributed to France's economic and cultural recovery, both launching their eponymous collections at age 42.
To illustrate the continued impact of Dior and Balenciaga, approximately one-third of the exhibition includes designs by other couturiers and some of the subsequent creative directors of the fashion houses they founded. The legacies of these venerated masters are carried on, thanks to the artful blending of iconographic elements of the founders with contemporary trends. The Dior aesthetic was carried on and expanded by Yves Saint Laurent (1957–1960), Marc Bohan (1960–1989), John Galliano (1996–2011), and, most recently, Maria Grazia Chiuri (2016–present). Hubert de Givenchy did not work for Balenciaga. However, he and two of the label's creative directors, Nicolas Ghesquière (1997–2012), and Demna Gvesalia (2015–present), are among those who absorbed and renewed ideas pioneered by Balenciaga.
Text- und Bildquelle: Museumswebsite
Veranstalter/ Ort
Museum at the Fashion Institute of Technology
227 West 27th Street
New York City 10001-5992
USA

weitere Infos: www.fitnyc.edu/museum/exhibitions/dior-balenciaga.php