Gold by Yves Saint Laurent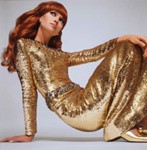 Paris (F) > 14.10.2022 - 14.05.2023
2022 marks the 60th anniversary of the first Yves Saint Laurent collection under his name, as well as the 5th anniversary of the opening of the Musée Yves Saint Laurent Paris. The exhibition, GOLD by Yves Saint Laurent, will celebrate the occasion by examining the role that gold has played in the couturier's work.
Under the curatorship of Elsa Janssen, director of the museum since March 2022, in association with the museum's curatorial team and with the artistic collaboration of Anna Klossowski*, the exhibition GOLD by Yves Saint Laurent presents gold through some forty haute couture and ready-to-wear dresses, selected accessories and objects, as well as display cases filled with jewelery, essential to the Yves Saint Laurent silhouette.
From the very first buttons adorning his pea coats to dresses that appear entirely fashioned from gold, no collection escaped the couturier's "golden" touch. So many materials lent themselves to Saint Laurent's mastery of the dazzling radiance of gold: brocade, lace, lamé, sequins, leather, embroidery – whether through fabric, jewelry or perfume, gold sparkles...
Text- und Bildquelle: Museumswebsite
Veranstalter/ Ort
Musée Yves Saint Laurent Paris
5 avenue Marceau
Paris
Frankreich

weitere Infos: museeyslparis.com/en/exhibitions/gold